An Espresso Experience Unlike Any Other: A New Wave Of Barrel-Aged Coffee
First off, who doesn't love coffee? 
I daresay coffee is that secret sauce that keeps the world moving, but more than that, coffee has a naturally delightful flavor that is so uniquely aromatic, rich and just the right tinge of bittersweet notes to reach deep into your soul and perk you right up.
And we all know the difference between those bitter, slap-you-in-your-face coffee that we just down as fuel, and those that just transcend a taste and aroma beyond that is just so comforting and makes life that much bright and rich.
Artisanal coffee is always pushing the boundary of the latter - finding new ways to enhance the coffee's taste and aromas, imparting more flavor, just the right amount of kick and bringing to you a greater depth and richness than you knew was possible.
Ever in search of new ways to up the coffee game, a new wave of barrel-aged coffee has even caught the eye of the likes of Starbucks, as craft coffee roasters seem to have found what looks to be the latest trend in the coffee game. (Image Source: Waplus)
Barrel-Aged Coffee
In comes barrel-aged coffee, a trend that is fast gaining popularity - so much so, that even Starbucks has been unable to look away and have sought to dabble in this new wave at some of their boutiques - its Reserve collection.
So what's up with barrel-aged coffee and why's it so popular?
It all started out when craft coffee roasters and cafes begun looking for new ways to impart greater depth of flavors and notes that simply can't be found in coffee, and yet do so without the need for additives or added artificial flavorings and syrups.
This prompted these roasters and coffee brewers in the US to begin to try aging their coffee beans in oak barrels that once held Bourbon, in order for the the Bourbon to impart sweet vanilla, caramel, baking spice and nuttier flavors to the beans, which were then roasted.
The outcome was obviously a success and became a big hit - customers couldn't get enough of the truly unique coffee that just couldn't be found elsewhere.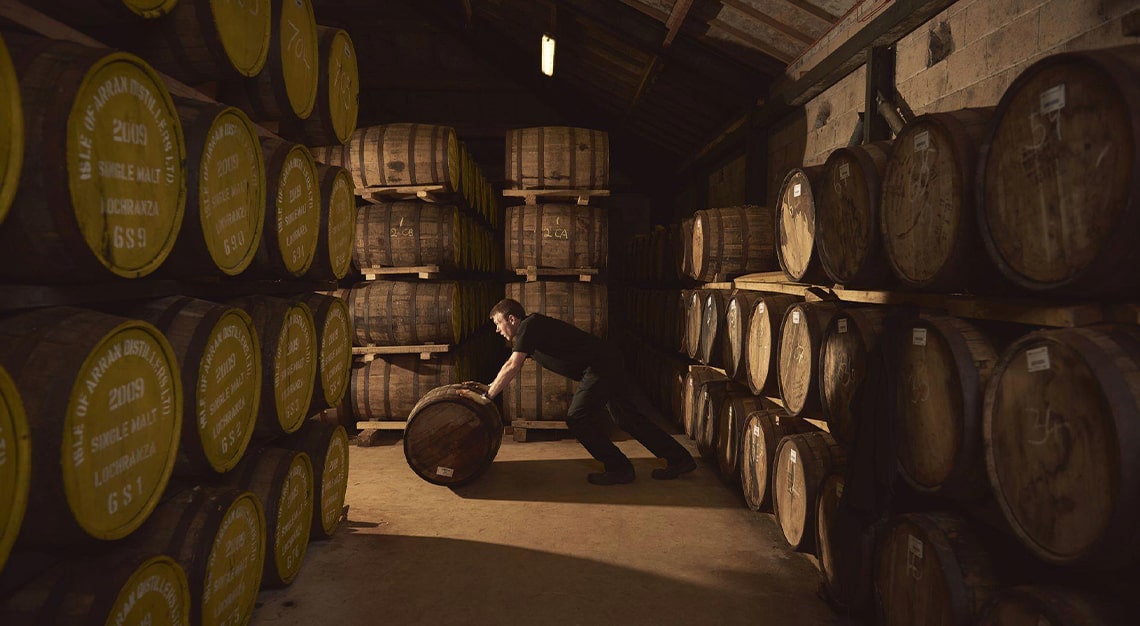 A new wave of craft coffee is emerging with whisky barrels used to give coffee beans a naturally more flavorful kick. (Image Source: Robb Report)
How Is Coffee Barrel-Aged?
Barrel-aged coffee is made by letting green or unroasted coffee beans rest in barrels that have previously stored whiskies, rums or wine. These barrels usually hold whiskies for anywhere from 2 years to 7 or even 10 years, which allows the barrels to absorb flavors from the alcohol. Those flavors are then imparted to the coffee beans stored in them. These coffee beans can be aged in the barrels for two weeks up till even 4-6 months, the longer it is aged, the stronger the barrel's influence on the beans.
Once the ageing period is completed, these beans are then roasted to strip away all of the alcohol (yes, the coffee is now alcohol free!) and can then be used to brew some incredible coffee.
Its popularity comes down to a couple of key reasons - 100% natural, richer and more depth to its taste and aromas, and probably most importantly, the flavors of coffee and whisky are highly complementary. (Image Source: Oak & Bond Coffee Co)
Why Is It So Popular?
A totally unique flavor profile that can't be achieved by coffee alone.
100% natural! No added flavoring, syrup or additives. No alcohol even!
The harmony of whisky and coffee flavors are complementary.
Healthier alternative to flavored coffee.
Better taste as flavors are integrated rather than added-on.
Greater variety with different types of whisky barrels used.
The trend is mostly happening in the US and Japan, but artisanal roasters like Japan's Waplus Roasters have actively worked to expand availability outside of Japan. (Image Source: Waplus)
Where Can I Try It?
While the trend started primarily in the US, Japan has been exceptionally quick to catch on given the huge coffee culture in Japan. This is also because Japan is home to some of the best whisky distilleries! And since you need high quality whisky barrels to age these coffee beans in, where better to do it than right in the backyard of the likes of Chichibu Distillery, one of the most prized whisky distilleries worldwide, often called the Phantom Whisky, because it's always out of stock from shelves.
Based in Saitama Prefecture, Japan, Chichibu Distillery currently produces one of the most sought after whiskies in the world. Yet, it doesn't stop there, Chichibu Distillery is actively finding ways to expand what they can bring to consumers - this time through coffee! (Image Source: The Whiskey Wash)
Spotting a great way to create better experiences for consumers, Chichibu Distillery has handed over some of its best barrels to well-known local bars such as Highlander Inn, known for serving up some of the best whiskies. These barrels were then used to age coffee beans by famous Japanese coffee roastery Waplus Roasters to create some amazing barrel-aged coffee.
A highly seasonal coffee - it takes loads of time and work to produce! - the collaboration is now in its 6th installment.
Chichibu Distillery's whisky barrels have been used in a collaboration with one of Japan's most popular craft coffee roasters, Waplus Roasters, to produce some incredible barrel-aged coffee. (Image Source: Waplus)
One of the best and most popular barrel-aged coffee produced, this 6th installment will see 3 varieties - Brazilian Coffee Beans (aged in IPA Beer Barrels used for Chichibu whiskies), Brazilian Coffee Beans (aged in Bourbon Barrels used for Chichibu whiskies) and lastly, Columbian Coffee Beans (aged in Bourbon Barrels used for Chichibu whiskies).
Highlander Inn x Waplus Roasters - Brazilian Coffee Beans (in IPA Cask Barrels used for Chichibu whisky)
The combination of the light body of Brazil and the IPA Beer Cask has a slightly bitter aroma in the fruity sweetness, resulting in a nutty and rich berry finish.
Highlander Inn x Waplus Roasters - Brazilian Coffee Beans (in Bourbon Barrels used for Chichibu whisky)
The combination of the light body of Brazil and the bourbon barrel creates a sweet and sour berry-like fresh aftertaste.
Highlander Inn x Waplus Roasters - Colombian Coffee Beans (in Bourbon Barrels used for Chichibu whisky)
The deep flavor of blueberries and the sweetness of vanilla make it a lingering taste that reminds you of midnight.
For the first time, these highly popular barrel-aged coffee beans are going to be distributed outside of Japan! They'll come in 100g bags as full-sized roasted beans, and can be enjoyed hot or iced, and can be stored at room temperature or refrigerated, which can extend its shelf life for up to 3 months.
Exciting! Cheers to an incredible espresso experience unlike any other!
Kanpai!
Filling a bookshelf? We picked these for you.
ADVERTISEMENT