The Mash Tun Tokyo 1989 Laphroaig "Kilbride" 28 Year Old 51% ABV
Lots of fanfare exist around Scotch's of the 1980's. Lores exist around them, and legends about them being the "real" Scotch constantly haunt those who frequent the realms they occupy – bars that almost feel like a portal into a bygone era.
Yet, there's a good dose of rose-tinting when we talk about the 80's. It isn't just known for good whiskies, just as the 60's and 70's were as well, but it was actually the end of the era of quality vintage Scotches. Let's wind back time. In the 60's, Scotch distilleries were having a real moment – the US and Japan were huge markets that opened their wallets up to Scotch as a drink of choice. With hot and fast money flowing into the industry, this of course prompted a three decade long push by the industry to become more competitive, open up new distilleries, push for more R&D into improving production processes, coming up with new barley varietals and yeast strains, become more experimental in creating new and exciting expressions. 
The whisky boom in the 60's would produce some of the most legendary bottles we have today, and a three decade long push to revamp the Scotch industry. (Image Source: Whisky Auctioneer)
Things were a 'changing, as some would call it.
While some too romanticise the period for creating better whiskies as a result of more attention paid to quality over quantity (the distilleries of today make for easy money-minded price gouging culprits). The reality was perhaps less rosy – to keep up with the booming demand, the converse was closer to the truth – distilleries cared more about production efficiency than ever! Of course, it would be just as illogical to say that anything pertaining to efficiency necessarily had to have a detrimental effect on taste. Some process upgrades did in effect result in some flavour improvements – consider that the goal was to take as much market share and sell as many cases of the stuff. That is to say it wasn't just quantity that was the singular focus, but also how the distilleries could produce better flavors as quickly as possible, short of sitting on their hands and waiting for age to do its magic. So flavour expediency was just as much a factor of consideration up until it made no incremental economic viability for it to matter.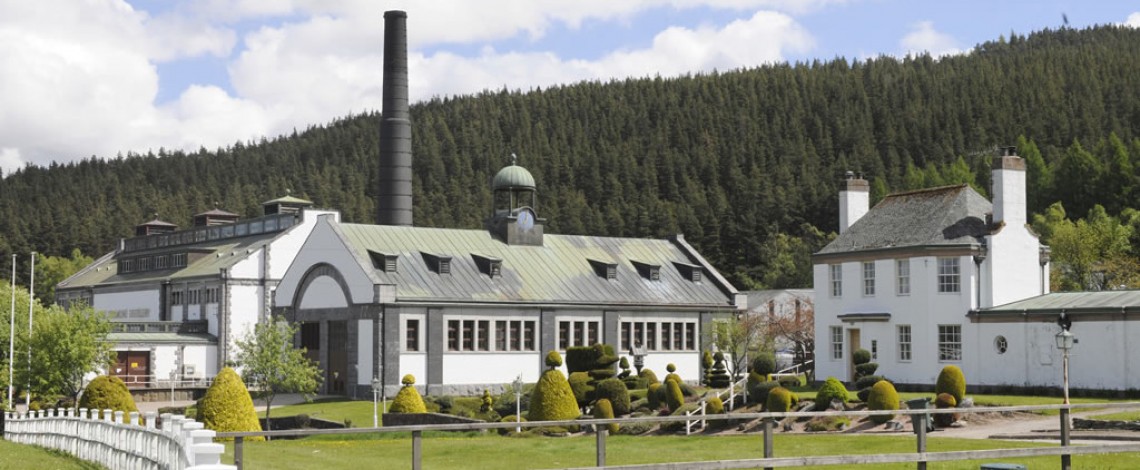 New distilleries like the recently acquired Tormore were prompted to be opened to support the whisky boom in the 60's - which also saw new processes and new ingredients geared towards efficiency, with some curious side effects. (Image Source: Whisky Antique)
TLDR: How can we make as much economically justifiably good tasting whiskies as fast as possible.
Now the 80's, as I mentioned, didn't provide much material to romanticise about. The Scotch industry was in rapid decline. As with all things where blame exists to be distributed, a whole host of reasons were given credit for what was termed the "Whisky Loch", which translated as "Whisky Lake", to mean a massive excess of whiskies ie. so much whisky you could fill a lake. Ironically, this too meant that some spectacular stuff was made off of the overwhelming buyer's market, where those with the financial means could easily and readily pick up high quality whisky stocks for cheap. But that's a story for another time. Ultimately, while fingers were pointed all over, the reality was that the industry was simply caught off guard by the sheer blinding lights from decades of success.
Indie bottle Compass Box's new Ultramarine expression kicks off a new series dedicated to exploring the Whisky Loch of the 80's that led to the production of some great blends like Johnnie Walker.
It was starkly different from the preceding 60's, yet the 80's had, by the time, three decades more innovation and experience under their belt than before, which unfortunately also marked the end of the boom and the start of the bust. Distilleries were folded, whisky stocks were dumped, and innovation slowed. 
Fast forward to today, and some would say we're right back in the boom times, auction prices are soaring, newmakes fetch price tags more than some of what is already ready for sale. And as predictably, efficiency has come to the fore again. How much can we produce in the shortest time possible – the NAS trend is evidence enough of this ethos. Yet, while efficiency seems like an amorphous pit that is associated with all things bad – it really is more like a wave that continues to trend upwards – that is to say, each boom leads to a pursuit for efficiency that is built on the efficiencies brought over the from the last boom's pursuit for efficiency. Does that make sense? There is certainly some accrued know-how that exists to be built upon, which is more realistic than believing that every distillery is out there on Islay reinventing the wheel. 
Each boom and bust has carried forth an accrued understanding of how to produce whisky in an increasingly efficient manner. (Image Source: Bespoke Unit)
While a sophisticated set up like a distillery has many avenues to work at being more efficient, let's just cover one aspect – the base ingredients, barley and yeast.
As the now-defunct whisky website Scotchwhisky.com covers, with each leg of the pursuit of efficiency, there was a search for higher-yielding barley varietals. In the 20's - 30's, the Spratt-Archer and Plumage-Archer varietals were created to yield more alcohol. Then in the 50's, Proctor became the dominant varietal, followed on by Zephyr and Maris Otter. Finally in the 60's to the 80's, the much recognised Golden Promise was the staple. Again, fast forward to today and even these varietals are considered far too inefficient. This relentless pursuit of yield can more or less be correlated to a dip in flavour as a rule of thumb goes that the higher the alcohol production, the less impurities; ironically it is the impurities that are responsible for the flavors. That is unless you find ethanol to be a flavorbomb.
If there was any flavor enhancement, it has largely been a fortunate side effect of the pursuit of efficiency, which explains why people obsess over vintage Scotch. (Image Source: CoBo Social)
As for the magic dust that turns barley into alcohol, there was a shift in the use of brewer's yeast to distillery's yeast in the 60's, again as you might guess – in part to improve the efficiency of alcohol production. Today most distilleries employ the use of industrial/commercial yeast that are efficiency squared and flavour square-rooted. Fermentation times have also been largely cut down which reduces the fruitier bits that is so beloved in 60's – 80's Scotch.
So why do we obsess over 80's Scotch? Maybe because we can't get our hands on 20's Scotch. The reality is that commercial bread-and-butter needs tend to be more effective the stick than a pursuit of quality being the proverbial carrot. As time progresses, the stronger the call of the corporate. That is not to say these distilleries are bad. They just want to keep up with demand. Would you rather few people getting a 10/10, or many people getting their hands on a 6/10?
Let's get rolling!
The Mash Tun Tokyo 1989 Laphroaig "Kilbride" 28 Year Old 51% ABV - Review
Color: Glimmering Amber
Very gentle, the classic late 1980s Laphroaig black tea notes and mustiness of old leather and books. (Image Source: iStock, Pinterest)
On the nose: Immediately black tea leaves, mellow yet aromatic and rich; buttery. As it blooms, its age begins to show – there's a mustiness of old leather, old furniture; almost like an old wood-furnished library decked with leather armchairs. 
The usual coastal notes begin to appear – sea spray, coarse seaside sand, charcoal and kombu. Again very mellow yet aromatic. There's a discernible absence of any hotness whatsoever. There is also a minty, herbal and herbaceous (they aren't the same by the way) note that is reminiscent of mint pastilles. 
 Light but discernible coastal notes, with mint pastilles. (Image Source: Pikist, Shopee)
The peat smoke is exceptionally gentle and frankly could be passed off more as roasted tea leaves rather than the peaty, ashy, medicinal smoke we're used to with Islay's available today.
Baking spices, liquorice, tobacco leafs - wait is this mulled wine or some sort of Bajan rum? (Image Source: Better Homes and Gardens, BBC, Cigar Journal)
On the palate: Gentle with a good serving of baking spice, cinnamon, - noticeably quite sweet, almost reminding me of mulled wine or a Bajan rum, that liquorice and cola candy note. Smoky roasted espresso bits, tobacco leaf; still quite syrupy and buttery in texture.
Light orange zest, richer pu-erh tea notes, the classic sherry raisins, some slate minerality and then a more prominent woodiness. (Image Source: 40 Aprons, Serious Eats, Fine Dining Lovers, Wineanorak, The Spruce)
Light citrus, more pu-erh herbal tea notes, with classic Sherry notes of dried fruits – raisins, pomegranates. There's a touch of chalky minerality as well. After which the woody old oak notes stand out as the most apparent flavour.
The woodiness and Sherry notes really comes to the fore, with a breadiness that you'd find in toast biscuits. (Image Source: The Spruce, Fine Dining Lovers, Flipkart)
The finish: A respectable medium length finish, that brought out more sherry and oak notes but also a sort of toast biscuit bready note. It lingers but isn't cloying.
My Take
I find these 80's Laphroaig's almost entirely a different beast from what the Islay giant is producing today. Previously, I had tasted two Laphroaig's – one from the 1988 vintage, a 16 Year Old from Douglas Laing's Old Malt Cask series, and the other was from the 1989 vintage, a 31 Year Old bottled by Thompson Bros for M & E Drinks and WhiskyHobo; both of which were simply divine. I suppose this 28 Year Old from 1989 sort of fits between the two – of which I'm always happy to beef up my library of Laphroaig's from the era.
Three Laphroaig's from the late 80's - all remarkably consistent. An era well worth exploring.
Across the three I find them starkly consistent! Give or take the intensity, some being more expressive and some less. They tend to sport a very characteristic black tea leaves note, with very gentle almost sweet ashy peat, generally fairly fruity (although this one seem to be missing out on that), with notes of tobacco leaf, old leather and books mustiness and wafts of sea spray. Perhaps what I appreciate most about them is that they tend to skew more towards herbal than medicinal – something the Laphroaig's today sport too much of. Even a little is too much in my book. But that's just me.
My Rating

 

🗿

I wanted to use a rock but there apparently is't a rock emoji. Seems pretty vital, don't you think?

But yes, rock solid consistent late 80's Laphroaig. You can't go wrong with 'em. Though I must say this one was just a tad less expressive than others I've tried.
This "Kilbride" (the name of a landmark stone in the vicinity of Port Ellen), a vatting of eight bourbon and sherry casks, was probably the least expressive of the trio I've tried, but it still remains one of the best Laphroaig's I've yet to try – perhaps that is until I skip a boom and bust cycle and try the famed 1967 Laphroaig Natural Strenght by Samaroli, or something older.
Kanpai!
@111hotpot
Filling a bookshelf? We picked these for you.
ADVERTISEMENT