Single Malt Saburomaru 1 THE MAGICIAN
Article first published by our partner, Japanese Whisky Dictionary. Visit them here. Find the original article here.
From 0 to 1. A change and a new step, a transformation, a skill, a new stage" are the keywords of Saburomaru 1.

In 2018, Saburomaru Distillery took a new step forward by replacing its half-century-old homemade mash tun with a state-of-the-art mash tun from Miyake Manufacturing.

The label design is based on Tarot cards (consisting of 22 Major Arcana and 56 Minor Arcana), and the number 1 of the 22 Major Arcana, "THE MAGICIAN" was chosen for the label to signify a new step forward. The label has been adopted to signify a new step forward.
The Bottle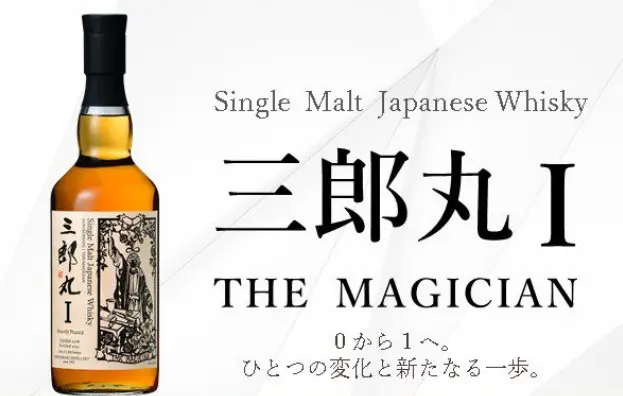 53PPM, Heavy Peated

Three days of hollow fermentation using two yeasts, ale and whiskey yeast. The malt used is hebily peated malt (53ppm).
It retains the strong peat and maltiness of a smoky beer, but also expresses the acidity of fruit. The taste is well defined.
Limited edition of 3,000 bottles.
| | |
| --- | --- |
| Nose | Vanilla, woody, fresh fruit and bonfire, typical of bourbon barrels. |
| Taste | Malt sweetness, vanilla, lactic mellowness, smokiness. |
| Aftertaste | The barrel aroma changes to a smoky, smoky aftertaste. |
| | |
| --- | --- |
| Alcohol content | 48% alcohol by volume |
| alcohol category | Single malt Japanese whiskey |
| Barrel type | Bourbon barrels |
| Contents | 700ml |
| Number of bottles sold | Limited to 3,000 bottles |
| Suggested retail price | 11,550 yen (tax included) |
| Release date | November 29, 2021 |
Our Take
Saburoumaru Distillery was reborn after a crowdfunding campaign in 2016 and renovation work in 2017 with the funds from the campaign.
Since then, the distillery has been upgraded every year, with the introduction of a new mash tun in 2018, a new pot still in 2019, and a wooden vat fermenter in 2020. The quality of the sake produced seems to be getting better every year, so the expectations are immeasurable.
I'm looking forward to seeing how the single malt Saburoumaru will taste when it is released next year.
In addition, Mr. Inagaki, the blender and manager of Saburomaru Distillery, started a bottlers business called "T&T TOYAMA" together with Mr. Shimono of the single malt mail-order company Maltoyama. It is attracting a lot of attention as the world's first Japanese whisky bottlers business.
When I visited the distillery, I talked to him, and he was a very active person with a strong passion for monozukuri. I'm looking forward to seeing what he has in store for us next.
(All Images Courtesy of JPWhisky.net)
For more awesome Japanese Whisky content, go visit:
Filling a bookshelf? We picked these for you.
ADVERTISEMENT