News & New Releases
Glenmorangie's A Tale Of The Forest To Be Revealed
What you need to know:
Glenmorangie has a new tale for us, this time it's A Tale Of The Forest, which will interestingly see the distillery use various woodland botanicals in the kilning process, where germinated barley is toasted to dry off and stop the germinating process. Think smoking the barley with woodland botanicals.
The woodland botanicals in question are Juniper, Birch Bark and Heather Blossoms, which should create a pretty aromatic "forest-y" whisky.
It will be bottled at 45% ABV, mostly inline with previous releases, A Tale Of Cake and A Tale Of Winter.
It's really interesting see Scotch makers get more creative with the whiskymaking process as we see them play around with different yeast strains, barley varietals, and kilning ingredients, going beyond the usual "interesting" cask finish. Though that said, with the new expanded Scotch rules allowing more types of casks to be used, that'll be something actually interesting to watch out for as well.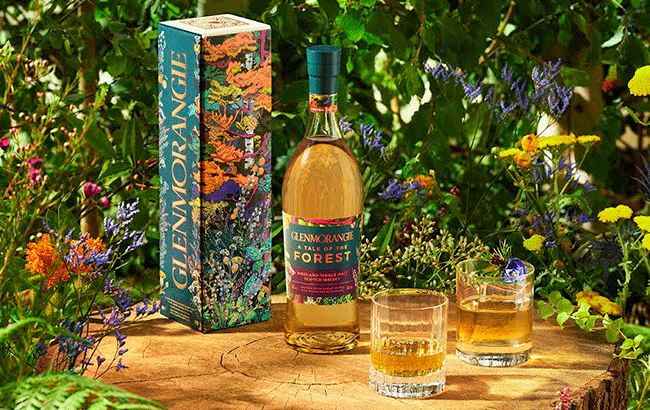 (Image Source: Glenmorangie)
It seems like Glenmorangie has yet another experiential Scotch tale coming our way, this time it's going to be "A Tale Of The Forest".
So far, all we've got are labels snuck out of the US TTB, where brands looking to export their alcohol must first get labelling and tax approval for their distribution in the US.
(Image Source: TTB)
The labels do nonetheless tell us something interesting here, the new Glenmorangie A Tale Of The Forest appears to be crafted quite uniquely with barley kilned with woodland botanicals. Taking a look at the back label we're enlightened to the use of juniper berries, birch bark and heather blossom, which are the woodland botanicals in question.
"Most mornings, our director of whisky creation, Dr. Bill wanders through the woods near his home. Captivated by the notion of a whisky steeped in the scents, sights and sounds of the forest, Dr. Bill brought back an ancient method of kilning barley with botanicals - in this case, juniper berries, birch bark and heather blossom. The result is a single malt as lush as the forest itself. Aromasz of pine and juniper are laced with wisps of smoke. Notes of deep-green eucalyptus, lit by rays of bitter orange, drift to a gentle oaky finish."
 (Image Source: TTB)
Bottled at 46% ABV, Glenmorangie A Tale of the Forest will retail for RRP £75 (US$85). Set to launch on 3 October, the whisky will be available exclusively from Selfridges until 17 October.
Our Take
Glenmorangie (as with many other Scotch makers) has been hammering hard on creating more experiential whiskies that are increasingly tied to storytelling, in their case - A Tale Of Cake, A Tale Of Winter, and now, A Tale Of The Forest.
Dr. Bill Lumsden who leads the charge on pushing Scotch whiskymaking to its boundaries. (Image Source: FINE + RARE)
Each theme has focused on the use of more unique ingredients, although the first two (Tokaji casks for A Tale Of Cake and Marsala casks for A Tale Of Winter) were more so a matter of repackaging given that Glenmorangie has always had a streak of using a wide range of interesting casks that fall under the Big 4 (Sherry, Rum, Bourbon and Wine) casks that were for a long time what was only allowed under the old Scotch rules. They were pretty good nonetheless, so kudos to Dr. Bill Lumsden, a legend in the Scotch industry who has constantly pushed the Highland distillery to continue playing with all sorts of new things, now with a whole new distillery dedicated to experimental works.
It'll be interesting to see if, now that the Scotch rules have widened the set of permissible cask types that can be used by Scotch makers, Glenmorangie will start dabbling in those. Some of their peers have already used ex-Tequila or ex-Mezcal casks, so it wouldn't surprise anyone if Glenmorangie enters the arena.
The new "Lighthouse Distillery" that Glenmorangie has set up for Dr. Bill to create more unique expressions. So expect more to come. (Image Source: Scottish Construction)
Yet, the third tale seems slightly more interesting given that the focus here isn't a matter of using new casks, but rather different treatments of the barley. Rather than kilning barley with peat (which is what the Islay folks have made their identity), Glenmorangie is using some interesting stuff like Juniper and Birch Bark. That'll be very curious to see. Heather is alittle more common with the Highland folks given its wide availability in the area and has actually made for some pretty nice floral whiskies, like Balvenie's Edge of Burnhead Wood, which was quite floral.
Generally it's been an increasing trend for Scotch makers to start getting more creative in terms of whiskymaking by experimenting with different yeast strains, barley varietals and in this case, kilning ingredients. That's all very exciting to watch unfold as we go beyond the typical "unique" cask finishing.
Kanpai!
@111hotpot
Filling a bookshelf? We picked these for you.
ADVERTISEMENT