Redbreast Kentucky Oak Edition, First Of New American Oak Series
What you need to know:
Redbreast is readying a new new Kentucky Oak Edition that will kickstart its new American Oak series.
It is triple distilled Single Pot Still Irish Whiskey that was first matured in Bourbon and Oloroso Sherry casks, and subsequently finished in American Oak casks that used naturally air-dried oak sourced from the Taylor Family Elk Cave Farm in Kentucky.
This probably means that it was given an additional finishing in virgin American Oak which would probably give it a stronger freshly shaved wood, vanilla and baking spice character.
It is bottled at 50.5% ABV with key highlights featuring "autumnal fruits, toasted almonds, toffee, vanilla, and rich oak spices" as mentioned on the front label. As of yet, there's been no indication of release date or pricing.
We speculate on what else will come from the American Oak series and if there could potentially be other regional cask series after Redbreasts Iberian and American series.
Available in the US now at an RRP of US$95.99.
Cop the Drop or Not Verdict: A Likely Cop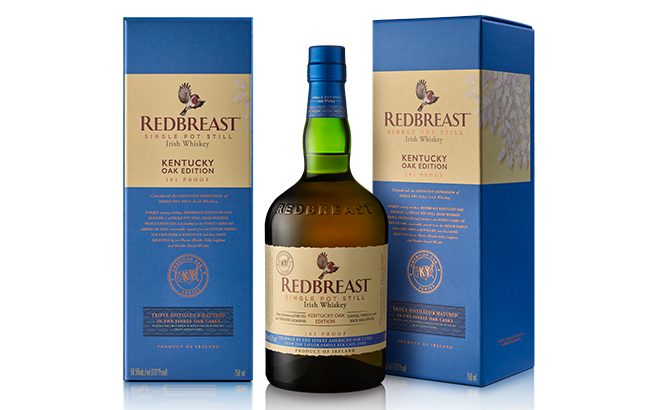 Redbreast looks to be in the works of releasing a new Kentucky Oak Edition, which will be the first of a new American Oak Series.
This follows their Iberian series which started with the Redbreast Lustau (a core offering) and followed up with the limited edition Redbreast Pedro Ximénez, which looked to celebrate the distiller's connection with the Iberian Peninsula's cooperages and winemakers.
"Redbreast is renowned for its heavy Sherry influence," explained master blender Billy Leighton. "This can often mean that its ex-Bourbon counterpart is overlooked, even though Kentucky white oak barrels, which have previously held Bourbon, are central to the Redbreast DNA.

"This series explores the role American white oak plays in the composition of Redbreast, and takes it one step further, with a final flourish in virgin casks to enable the wood contribution to truly take centre stage."
We tried the Lustau and it remains one of our favorites. Read our review here.
The new Kentucky Oak Edition will feature triple distilled Single Pot Still Irish Whiskey that was first matured in Bourbon and Oloroso Sherry casks, and subsequently finished in American Oak casks that used naturally air-dried oak sourced from the Taylor Family Elk Cave Farm in Kentucky.
Taylor Family Tree Farm in Kentucky, USA. (Image Source: University of Kentucky)
For those less familiar with Kentucky, it is where a substantial amount of America's Bourbons are produced with the likes of Eagle Rare, Buffalo Trace, Old Forester, Wild Turkey, the list goes on. In fact, 95% of all Bourbons come from Kentucky. What is maybe even lesser known is that Kentucky is also home to one of the largest Elk populations in the US. That and of course, rapper Jack Harlow, actors George Clooney and Johnny Depp, and obviously, Kentucky Fried Chicken. Kentucky has produced alot of things. 
Leighton added: "Crafting this whiskey has been a journey of discovery. From learning about the trailblazing work of the Taylor family improving the sustainability of America's oak forests, to exploring the region's influence upon our whiskey, all of which has shaped this deliciously complex whiskey.

"The Kentucky Oak series demonstrates Redbreast's continued evolution, setting the bar for subsequent expressions in the series."
It is bottled at 50.5% ABV with key highlights featuring "autumnal fruits, toasted almonds, toffee, vanilla, and rich oak spices" as mentioned on the front label. It has been released in the US at an RRP of US$95.99.
(Image Source: TTB)
Official Tasting Notes
Nose
Notes of freshly cut cedarwood, almond, and vanilla enhanced by hints of dark berries, oak shavings, and warming charred wood, all complementing the pot still spices.
Palate
Cinnamon, nutmeg, and clove build over time, working with the oak's rich tannins. Hints of autumnal fruit linger, combining with sweet notes of brown sugar, toffee, and vanilla.
Finish
Lasting finish with the fruits slowly fading, leaving the pot still spices to harmonize effortlessly with the sweet tones and intricate nature of the American oak.
Our Take
It should be noted that because the majority of Bourbon comes from Kentucky, that also means that the majority of these Bourbon barrels that's used for whisky maturation (an estimated 80% of whiskies worldwide are supposedly matured in Bourbon barrels) is made using American Oak. In fact most of Redbreast whiskey, including this new release, is matured in Bourbon barrels made from American Oak from Kentucky. That makes this release American Oak matured twice in fact. Once at the start of its maturation in a Bourbon barrel and then once again after it has undergone some time in a Oloroso cask.
Kentucky is home to 95% of America's Bourbon. (Image Source: Forbes)
So what's the big fuss? Of course, there's the added provenance being that this one's specifically from the Taylor Family Elk Cave Farm. But does that actually affect the whisky in some unique way? That remains to be seen. 
As the label mentions a finishing in simply American Oak casks, this probably means that while the initial maturation was in a Bourbon barrel (likely made of American Oak), the finish is probably done with virgin American Oak that has not been seasoned with Bourbon (or any other spirit). So our guess is that this would likely amp up the notes of freshly cut wood, vanilla and baking spice, and probably give it a drier finish. 
Redbreast PX from the Iberian Series. (Image Source: Redbreast)
On a broader note, it seems like Redbreast is taking a pretty interesting strategy on an otherwise common practice of rotating between different casks finishings by distilleries to produce new releases to drum up excitement. 
Every distillery does it. Its the easiest way to produce new limited edition bottlings and add a bit of variety to the core ranges. Dump out a couple of casks of stock and get them into another type of cask - preferably something more esoteric, like mezcal or shochu - which would only take something of 4-6 months, very short in whisky time, and voila! New limited edition bottling. Not the most inspiring innovation around.
Yet, what Redbreast has done is to group these cask finish bottlings by region, which seems like a small move but is actually pretty brilliant. It tells fans what to expect and also helps with encouraging them to round up the series so that a neat little vertical tasting session is in order. Series are great ways to keep drinkers interested, just ask Macallan, or maybe The Lakes Distillery.
Having not found much success in its releases, The Lakes did the brilliant move to start...you guessed it, a series. Now suddenly its the most sought after thing. Series are a distillery's gold mine. (Image Source: The Lakes)
While Redbreast has yet to officially announce the latest series and so we don't actually know where they plan to go with this, we can speculate at least two questions that come to mind, what else could we potentially see from the new American Oak series, and what's the next country of origin whose casks could we see become a future series from Redbreast?
While it could well be the case that the buck stops here and Redbreast only runs an Iberian and an American oak series given their long history with primarily using casks from these two areas, it's worth considering that they could push further with this, given the advantage (albeit likely not as long lasting as they might have hoped) that Irish whisky regulations confer in being far more generous with what types of casks can be used to mature whiskies, as compared to their Scotch counterparts.
Scotch whisky has amongst the strictest rules when it comes to what casks are permissible, something that Diageo has actively sought to change. This culminated in a change in whisky rules in 2019 which now allowed non-traditional casks such as tequila, mezcal, calvados, shochu and baijiu, amongst several others. So the question remains fairly relevant.
Redbreast's Midleton is no stranger to experimentation, at the expense of its Scotch peers. (Image Source: Method and Madness)
In fact, this itself is the basis to Midleton's other brand of whisky - Method and Madness (which we've also reviewed and really enjoyed), which is a line-up dedicated to supporting experimentation, much of which has involved woods that so happen to not be permitted by Scotch regulations. It's seen everything from French Limousin Oak, Acacia Wood, Cherry Wood and Mulberry Wood, amongst others. Why not bring Redbreast on that same trajectory?
Read about Midleton Distillery here.
To the first question, America has come a long way since Prohibition, and with that various American spirits have gained popularity. Keeping with the American Oak theme, the easiest guess would be Bourbons of other types, Rye and Wheat come to mind. Then there's also other spirits such as Absinthe (which parent company Pernod Ricard, owner of Irish Distillers and Midleton Distillery where Redbreast comes from, has interests in) and even further out, American wines or beer casks. Maybe Ryan Reynold's Aviator Gin cask? Something Scotch regulations have yet to accept even after the rule change.
Japan is a replete with potential new cask finishes that will truly push Redbreast to far newer realms. (Image Source: Boutique Japan)
As to the second question, would it be such a bad idea for a Japan series? I know, I know - so predictable, everyone's using Mizunara these days. But hear me out, there's also Shochu (which itself has its own sub-varieties), umeshu, sakura, and so much more. Would your interest not be sufficiently piqued to pick up a bottle?
And therein is the genius of Redbreast (or maybe Midleton). By categorising them by geography, they've reframed a practice that is so commonplace, into something that much more interesting and worth tasting or even collecting. Will any of this happen? Who knows. But is it out of the question? Hardly.
Cop the Drop or Not Verdict: A Likely Cop
You may say I'm a dreamer
But I'm not the only one
- Imagine (1971) by John Lennon
Kanpai!
@111hotpot
Filling a bookshelf? We picked these for you.
ADVERTISEMENT