Mars Asagi Madara 8 Year Old 2020 48% ABV
Today, I have in hand a bottling of Mars' Asagi Madara, 8 Year Old, a malt and grain blended whisky, that was issued in commemoration of Mars Shinshu Distillery's renovation and expansion in late 2020, some 35 years from when it was first established. 
Its label features the Asagi Madara (painted by Japanese artist Tomoko Nakanoma), also known as the Chestnut Tiger, a gorgeous blue-green marbled, shimmering butterfly, that is known for a special feature – its migration pattern. It is the only migratory butterfly native to Japan, and only appears once a year, spending the rest of the year covering vast distances across Japan in search of the Fujibakama flower's honey. The butterfly genus was specially selected to adorn the label as the Asagi Madara is seen at the Miyada Village, where the Shinshu Distillery is located, every year in September, which was the month the distillery's renovation works was completed. They also thought it apt as the whisky bottled was said to be reminiscent of the Shinshu forest and wildflowers.
The Asagi Madara butterfly looks pretty true to form on the whisky's label doesn't it? (Image Source: Natural-Japan)
The whisky contained is made from a combination of American oak, ex-Bourbon and ex-Sherry matured malt and grain whiskies, but what is of some curiosity is that the back label states that only the malt whisky component was made by Mars. The grain distillate, which is assured to us by the label, is of 100% Japanese descent, and was actually purchased from another Japanese distillery (which is undisclosed) "before the Japanese whisky boom made purchasing from that location impossible". Rumor has it that the distillery in question is Kirin's Fuji Gotemba Distillery or now rebranded as Mt Fuji Distillery.
Here's a quick bit on why grain whiskies are a hot topic in the realms of Japanese whiskies – most blends employ the use of grain whiskies (for example maize, wheat or rye as the base) to help better marry the malt whiskies (which of course is made from barley) together. The more neutral base spirit of grain whiskies helps fill the gaps of the otherwise more distinctive and more intense flavors from malt whiskies. Alas, Japan is not home to many grain whisky distilleries. This is all the more ironic given that Japanese consumers have a generally greater preference for blends than single malts. Yet, distilleries were able to fill those thirsty needs for decades by using imported grain whiskies (it also helped that demand for domestically produced whiskies was nowhere as strong as it is today).
Kirin's Fuji Gotemba Distillery has one of the largest whiskymaking facilities - able to produce both malt and grain whiskies, and even bottling and aging on site. A rarity in Japan. (Image Source: Whisky.com)
Yet, when the JSLMA – the Japanese whisky association – changed the rules in 2021, singling out the necessary provision for domestic whisky producers to have to make whiskies from fermentation to distillation, maturation and even bottling having to all be done in Japan, things got hard. As grain whisky production requires column stills, while malt whiskies are made using pot stills, most distilleries (particularly craft ones) certainly did not have the ability to rally up the resources to add grain whisky production to their capabilities. If these distilleries can't find a way to produce or *laughs* procure (an impossibility) grain whiskies, their blends will either have to make do without it, or face losing the qualifications to use the words "Japanese whisky" on their labels – certainly a marketing faux pas.
While this had no bearing on some of the bigger whisky producers like Suntory (with its Chita Grain Distillery) and Kirin-owned Fuji Gotemba Distillery, it did affect the likes of Shizuoka Distillery, Saburomaru Distillery and Nagahama Distillery, just to name a few. Heck, even powerhouse Nikka was affected (its popular From The Barrel expression no longer able to qualify for the use of "Japanese Whisky" on its label).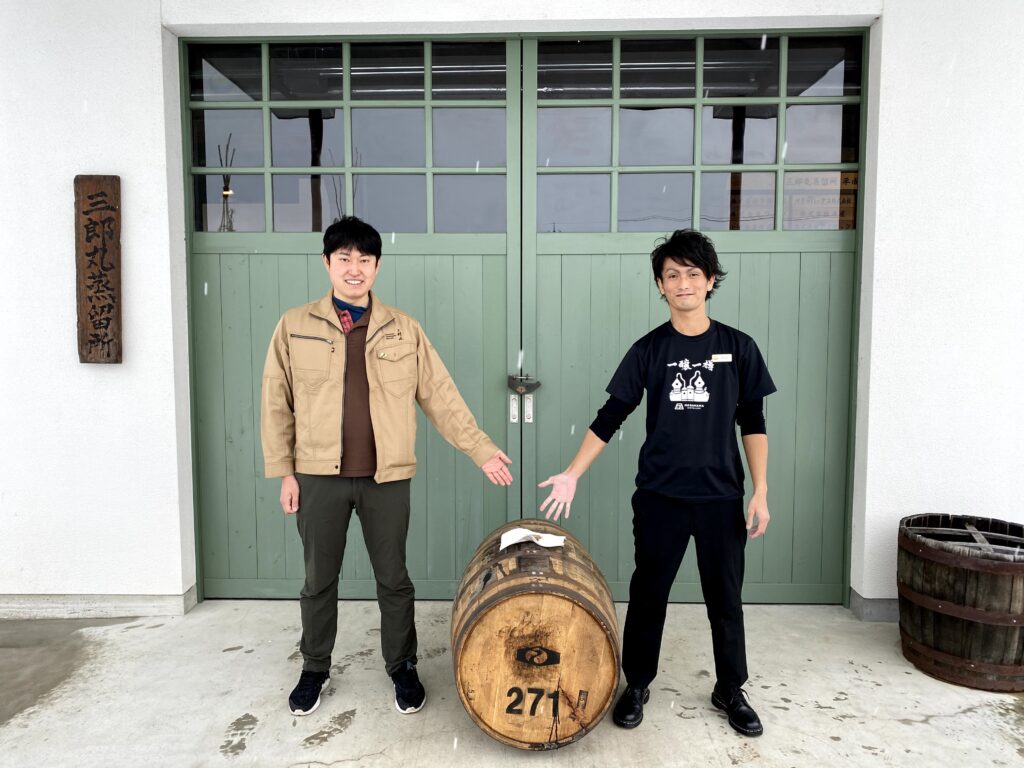 Some distilleries like Saburomaru and Nagahama have overcome the lack of extensive whisky production facilities by swapping whiskies for each other's use. (Image Source: Japanese Whisky)
There've been ways that the industry has coped – such as swapping of whiskies between distilleries (something that didn't happen in Japan up until recently) or alternatively some craft distilleries backed by larger beverage companies such as Kanosuke (owned by Shochu maker Komasa Jyozo) and Sakurao (owned by Sake producer Chugoku Shuzo) have ponied up to either build grain production facilities or McGyver existing equipment from other alcoholic beverages they produce to also produce grain whiskies.
As such, grain whisky is quite the hot topic in Japan's whisky industry. 
Which brings us back to Mars' Asagi Madara's (rumored) use of Fuji Gotemba's grain whiskies, something that is said to have only been possible "before the Japanese whisky boom made purchasing from that location impossible". With Japanese whiskies in high demand right now, it certainly makes sense that the distilleries in possession of grain whisky production capacities are unlikely, nay, definitely, 100%, not about to give up any of their grain whisky stocks. Certainly that means depriving their competitors of the coveted ability to use the magic words "Japanese Whisky" on their label. A marketing nasty, if you will. 
Now let's review this baby, whose methods of creation would probably never happen again.
Mars Asagi Madara 8 Year Old 2020 48% ABV – Review
Color: Golden Pancake Syrup.
Almost like a hotel breakfast on the nose, loads of breakfast desserts, milk chocolate and the classic Mars white pepper. (Image Source: The Clever Carrot, BBC Good Food, Star Bazar Japan)
On the nose:  Immediately lots of honey, cinnamon, baking spices, milk chocolates, very buttery. Almost as if matching its color, it really strikes me as something of a breakfast dessert – pancakes, French toast, cinnamon swirls. This is also dotted with white pepper as I've come to notice is always the case with Mars' whiskies.
The palate evolves to more gentle florals, frangipanis, crisp tart orchard fruits of Bosc pears, sweet sundried raisins and a more cereal note of oats. (Image Source: Garden Clinic, Save on Foods, Healthline, Food Network)
There are gentle florals – lilies, frangipanis, vanilla pods, almost of flower nectar. There are some fruit notes here as well, with crunchy yellow Bosc pears, raisins, green apples, and light touches of blackberries – all very tart, slightly twangy. Lastly, some cereal, malty notes, perhaps flaked oats.
It really feels like a hotel breakfast buffet in a garden setting. In this sense, the Asagi Madara butterfly almost seems too apt.
On the palate: Very thick, syrupy, full-bodied. It is also sweet, giving the impression of spiced honey gliding over the palate. Most of what you'd expect from the nose, shows up in the palate as well – loads of honey, milk chocolates, the white florals, baking spices and the tart orchard and stone fruits, heck even the white pepper and oat is here!
The palate is fairly consistent with its aromas - the same breakfast desserts, but it takes a more creamy character with notes of condensed milk and custard apples, and it also gets more wispy with sweet ash like what you'd find with temple incense. (Image Source: The Recipe Critic, Bon Appetit, Candy Floriculture, Feng Shui)
What differentiates the palate from its aromas is probably more creamy notes – condensed milk, Greek yoghurt. Even creamier fruits show up, like custard apples and bananas. There is a slightly sweet ashy note here as well that is reminiscent of temple joss sticks.
The finish is reminiscent of honey raisin granola, cinnamon spice and Maltesers mill chocolate honeycomb candy. (Image Source: Quaker, Healthline, Maltesers) 
The finish: Quite long lasting, the sweet honey and raisins continue to stay very present, with some notes of Maltesers candy, cinnamon spice and cereals in the receding palate. Here it ends off being more oaky and astringent.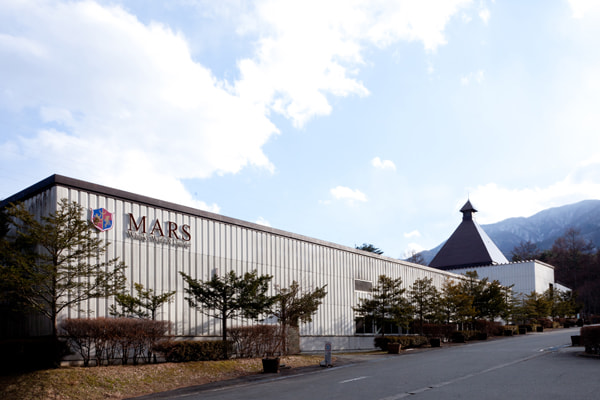 Mars' Shinshu Distillery in the cool Nagano Alps. (Image Source: Discover Nagano Wine)
My Take
This was a pretty solid blend from Mars. It was very well-integrated, showed a decent amount of complexity, and a good balance between malt and grain whisky. I was quite surprised by how consistent it was from its aromas to the palate and the finish. That said, as you might imagine with a whisky that is very much "what you see is what you get", while it's a solid pick up and would make a good daily sipper (my friends who happened to be in the vicinity of my freshly opened bottle certainly gratuitously helped themselves to dram after dram, thankfully helping me wipe out half the bottle), it isn't anything to write home about. Don't get me wrong, it's absurdly drinkable this stuff.
My Rating

 

🥖

It's like a plain baguette - it's good, I could eat it often, but I wouldn't go about town shouting about it.
Perhaps I've been too spoilt by the multitudes of snazzy new releases these days. But there's not much in the way of uniqueness (beyond I suppose the backstory) here or anything particularly scintillating or exciting with this bottle. Though that said, I do find that for the price (which is very reasonable, almost shockingly reasonable in fact) and that the outturn was only a touch above a thousand bottles (not a lot really), it is still very much easily available. 
If you want to get your hands on a solid Japanese whisky whether as a daily sipper (something you can pick up easily) or just getting into the game and don't want to break the bank – this is your guy (or girl).
Kanpai!
@111hotpot
Filling a bookshelf? We picked these for you.
ADVERTISEMENT