These slim, unpretentious containers exude a quiet confidence that stands in contrast to ostentatious and sometimes hilariously over-the-top baijiu bottlings from Mainland China.
Even amongst experienced baijiu enthusiasts in Beijing or Shanghai, one of the most highly-regarded brands of baijiu that they love isn't really produced in China. Okay, well… that depends on who you ask – I'm not getting into that discussion today.
Nestled within the historic charm of Kinmen islands, a cluster of 15 islands that lies a mere 2 kilometres (1.2 miles) from Mainland China, lies plentiful fields of sorghum (or "kaoliang" in Taiwanese Mandarin) . Despite Kinmen's proximity to Mainland China, this cluster of islands is administered by the government of Taiwan. This is the birthplace of the famous Kinmen Kaoliang Liquor.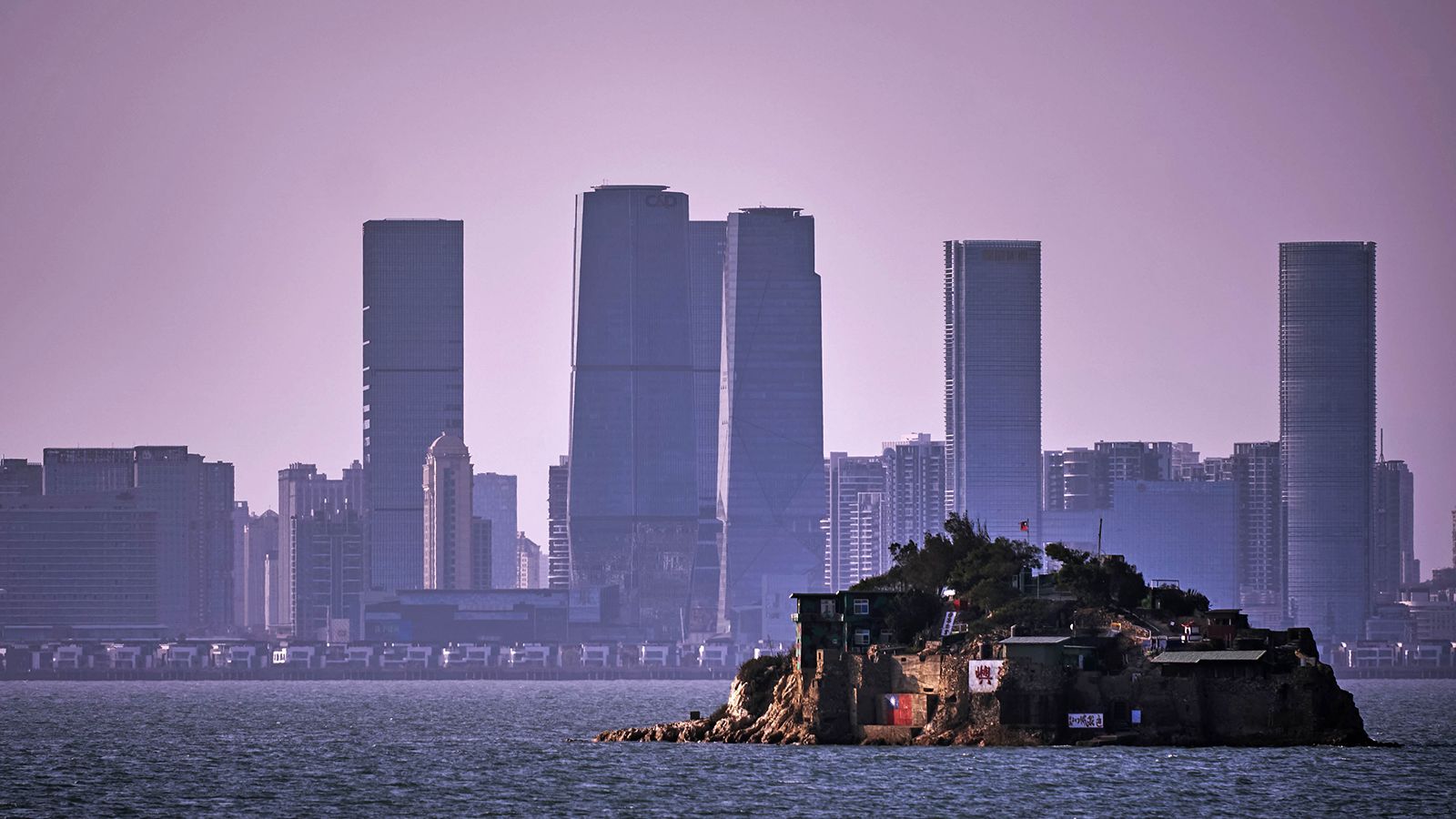 One of the islets of Kinmen photographed just 2 kilometres off the glass-walled high-rises of Mainland China (Source: Getty Images)
Emblematic of the island's rich past, this kaoliang liquor is steeped in a profound narrative of history and terroir. Made from the sorghum crops of this rugged terrain, it stands as a testament to the resilient spirit of the island's denizens. Back in the 1950s, China was undergoing a civil war between the Communists and Nationalists. The island was used by the Nationalists as a military bastion for Taiwan against Mainland China.
While administered by the Taiwanese government, Kinmen Islands lie incredibly close to Mainland China (Source: CNN)
To supply this garrison, the Taiwanese government had to import rice from Taiwan along with fuel and necessities like liquor – a costly financial burden on the Taiwanese government coffers. Rice had to be imported because the area's droughts and sandy earth made rice cultivation impossible.
General Hu Lian, the commander of Kinmen's defense base, came up with a resourceful plan. Instead of trying to cultivate rice, he encouraged local Kinmenese farmers to grow sorghum – a drought resistant crop – and barter their harvest for an equal weight of imported rice. This seemingly simple shift in agricultural policy not only eased financial strain but also ignited the inception of a sorghum spirit that has since become inseparable from the island's identity.
Today, the echoes of Kinmen's militaristic past lie interwoven with the island's serene ambiance. The town of Jincheng, once abuzz with over 100,000 Taiwanese troops, now exudes tranquillity, its charm accentuated by small quaint temples, cobbled lanes, and the ocean's pervasive tang.
Sorghum grown on Kinmen (Source: 曾吉弘/Google Maps)
Now that the islands are mostly unoccupied the Kinmen Kaoliang distilleries hold a prominent presence in the area. Both the old and new facilities, stand as striking landmarks. The new distillery plant sits in the heart of the main island with two monumental model bottles of Kinmen Kaoliang. The more historic facility in the southwest, beneath Jincheng, overlooks the sea while its tanks and warehouses still emanate a sweet scent of fermented sorghum that can be smelled by the surrounding village.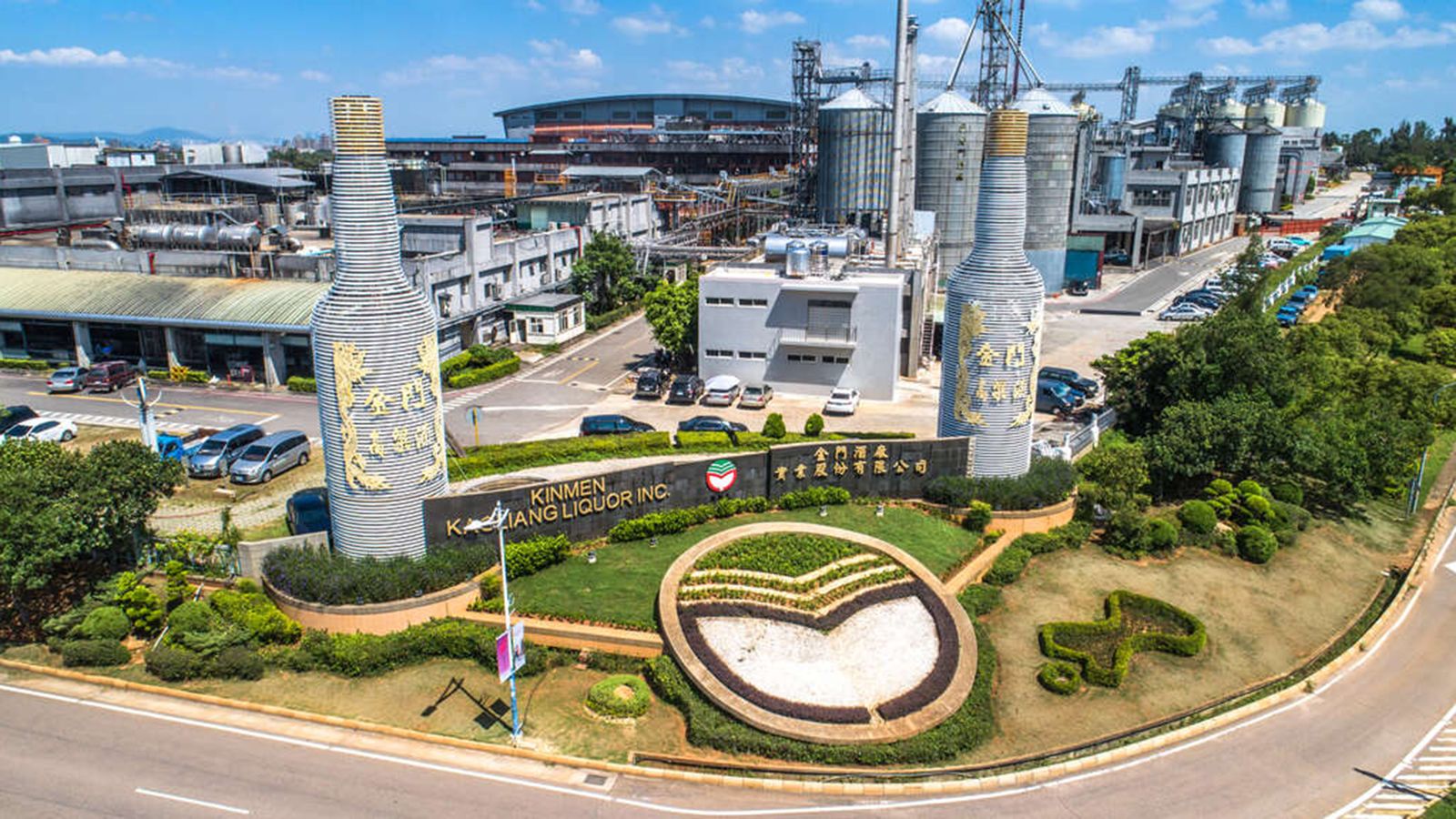 The new Kinmen Kaoliang distillery plant (Source: Getty Images)
Kinmen Kaoliang's mainstays come in two unassuming transparent glass bottles, holding within them the 58 percent and 38 percent alcohol variants. These slim, unpretentious containers exude a quiet confidence that stands in contrast to ostentatious and sometimes hilariously over-the-top baijiu bottlings from Mainland China. From the 58-percent proof Kinmen Kaoliang, cherished for its remarkable compatibility with Taiwanese stir-fried dishes and hot pots, to the more delicate 38 percent variant favoured by women, young adults, and the elderly, these offerings have something for every discerning Taiwanese palate.
While the Taiwan-based Kinmen Kaoliang does not officially classify its liquor under the aroma classifications used by the Mainland Chinese baijiu industry (e.g. Rich Aroma, Light Aroma, Sauce Aroma etc.), it is often described by connoisseurs to be closest to Light Aroma baijiu.
A good friend recently took a trip to Taiwan, and we conveniently got an opportunity to have a taste of this classic liquor beloved by the Chinese and Taiwanese. Let's get into it!
Kinmen Kaoliang (

金門高粱酒

) 38% ABV – Review
Nose: On first approach, the nose is pleasantly sweet, vibrant, and approachable. It exudes a charming aroma of fresh grain sweetness layered by white lychee cream cakes, developing into a growing acidic zing of lychee and fresh plums. A distinct note, reminiscent of the funk of Clairin Casimir, subtly weaves its way through the scent profile. There's a just-noticeable light minerality. Over time, the initial sugary character starts to yield, revealing a musky grain scent that conjures up images of an aged, venerable antique store.
Palate: Approachable and yet flavourful and very expressive. A burst of sweetness greets the palate, carrying forward the grain notes and tropical rum-like funkiness hinted at in the nose. An unexpected complexity unfolds midway, as the flavours swerve toward a grassy herbal bitterness. This is swiftly followed by a whisper of brine and some light gasoline notes seen in many Light Aroma style baijiu.
Finish: The finish is moderate, leaving a very light dryness, mild herbaceous bitterness that is strangely refreshing, and a comfortable sense of warmth as it lingers at the back of the throat.
My Thoughts
:

🎢

A surprising roller coaster of flavours!

Overall, this Kinmen Kaoliang Baijiu at 38% ABV presents an enjoyable and impressively balanced drinking experience great for non-baijiu or non-neat spirits drinkers.
Despite the lower ABV, it surprises with its flavourful palate – which in fact seems more flavourful that other higher ABV products. Although the texture is quite watery and lean, this feels entirely appropriate given the lower alcohol content which is intended for a specific consumer segment. The intriguing blend of sweetness, funkiness, and light bitterness ensures each sip is also quite an adventure, and keeps my taste buds on their toes.
Kinmen Kaoliang (

金門高粱酒

) 58% ABV – Review
Nose: Invitingly sweet, rich, luscious and full. As opposed to the lighter 38% ABV variant, this presents very focused cereal notes, melded with a really refined fruitiness and only a whisper of funk, leading into an elegant scent of blooming orchids, a touch of minerality and some light medicinal woodiness.
Palate: Mellow, intricately flavoured with a satisfying oily texture. Its high viscosity once again carries focused, sweet toasty cereal notes that seamlessly evolves into a light toasted nuts bitterness and distinctive notes of sesame paste with the umami of miso soup.
These flavours transition beautifully, seamlessly. While the profile is incredibly clean and pure for a baijiu of this level of character and flavour – it's devoid of gasoline or tinner notes, and virtually no unwelcome acidity. And despite the high ABV of 58%, it gently warms the tongue and the back of the throat.
Finish: Long, pristine, and graced with a faint echo of cereals and nuttiness. The experience concludes with a hint of bitterness, reminiscent of a piece of dark chocolate savoured slowly.
My Thoughts
:

🧘🏻🧘🏻‍️

Incredibly focused, tasty and full of toasted grain goodness.

The flagship Kinmen Kaoliang Baijiu 58% ABV impresses with its extraordinary purity and complex flavours that are super well-integrated while seamlessly evolving.

It really excels with a focused and deep flavour profile of sweet cereal notes. The absence of even a hint of off-notes such as gasoline, nail polish remover or unwelcome acidity is also particularly impressive – and it should make this very palatable to Western tastebuds. It is difficult to find a Western spirit comparator, but I'd compare this with a pleasant malty new make Scotch or moonshine.

This baijiu is a delightful exploration of taste, a libation that I happily poured a second and third glass off. Highly recommend for those interested in a deeper dive into the world of baijiu.
Conclusion
Exploring these two variants of Kinmen Kaoliang and the history of Kinmen Islands has been an enriching journey through the intricate world of Taiwanese spirits and history.
Now, the 38% ABV variant, with its balanced and surprisingly expressive palate, impresses in its own right. It's a solid choice for those seeking a refreshing and flavourful yet very approachable baijiu. It can comfortably replace commercial soju as a social drink paired with food on many occasions.
However, the 58% ABV variant really stands out as a remarkable expression. Its smooth and clean profile, seamless progression of flavours and absence of off-notes and an impressive depth of toasted grain flavour really sets it apart. It is without a doubt that I declare the Kinmen Kaoliang Baijiu 58% ABV as my new favourite baijiu. This is a delightful discovery and a tasty spirit that I would gladly pour for myself again and again.
@CharsiuCharlie
Filling a bookshelf? We picked these for you.
ADVERTISEMENT